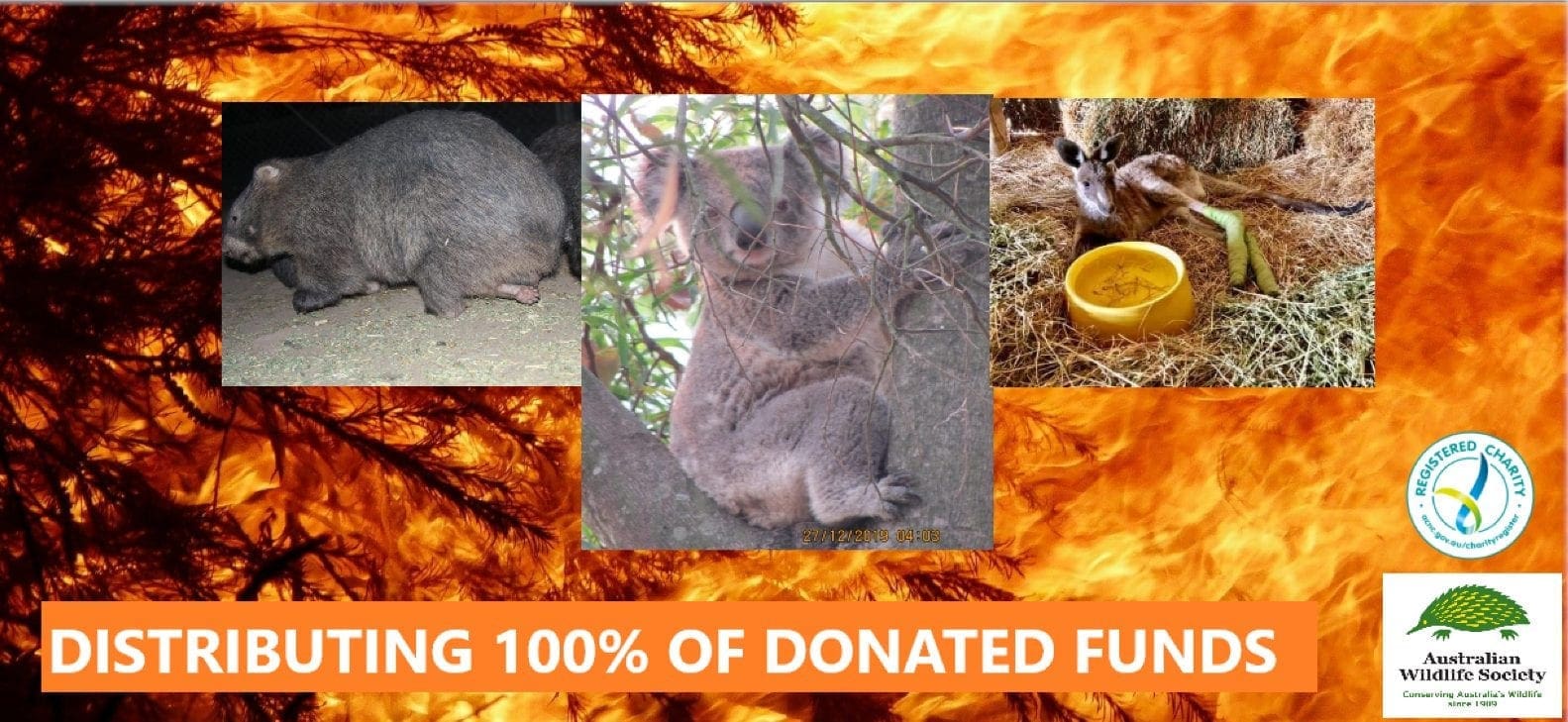 We're helping wildlife affected by fires
The scale and severity of bushfires sweeping the country is currently testing the resources of wildlife rescue groups. Many groups have issued public pleas for financial support and donated goods, to help them meet the needs of native wildlife that are suffering from the impact of these fires. Wildlife rescue groups and wildlife hospitals simply cannot keep up and need extra support to help native wildlife going through this traumatic moment in history. The treatment and rehabilitation of wildlife is an intensive and a long-term process and recovery can take up to 6-9 months.
Australian Wildlife Society wanted to do more to help wildlife rescue groups and native wildlife affected by the bushfires in NSW, SA, VIC & QLD. If you have also been wanting to help, here is your chance! We are asking you to join the echidna hunt to help us raise funds for wildlife rescue groups that are rehabilitating native wildlife affected by the bushfires.
Did you know that the echidna is the symbol of our Society and that the echidna is featured on the 5 cent coin? If you are interested in collecting 5 cent coins to participate in this fundraising process, please deposit the funds at your nearest Commonwealth Bank of Australia or via electronic funds transfer using the account details below. Once the coins have been banked, please let us know your details and how much has been banked ([email protected]) and we will send you a tax-deductible receipt. Donations of $2 or more are fully tax-deductible. To help spread the word, share the message via your social networks and don't forget to tag us. Invite friends, colleagues and local businesses to join the echidna hunt to raise funds for wildlife affected by the bushfires.
Account Name: Wildlife Preservation Society of Australia trading as Australian Wildlife Society
Bank: Commonwealth Bank Of Australia
BSB: 062-235
Account: #10696157
Description: Wildlife in fires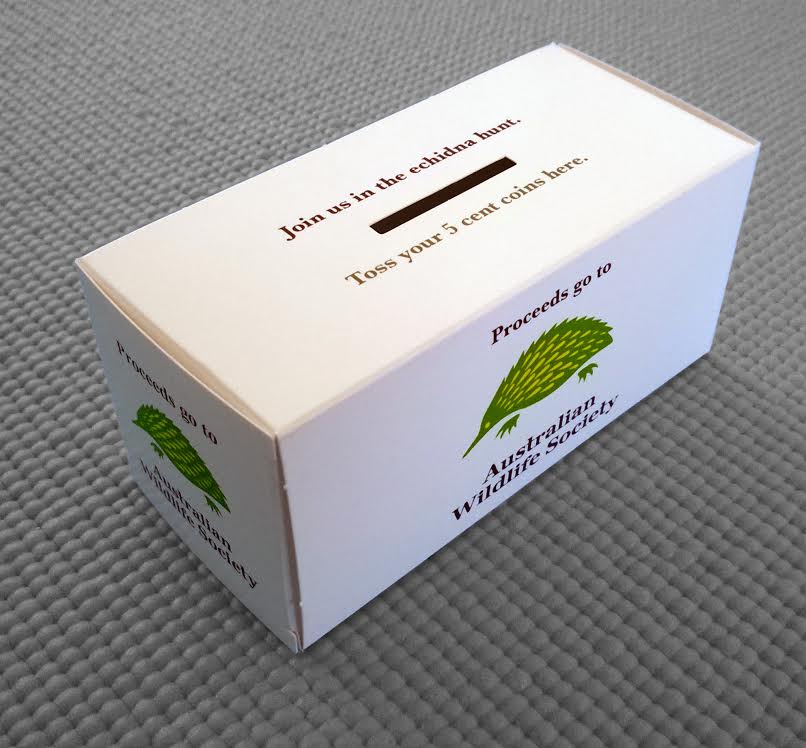 Wildlife rescue groups that we are supporting
100% of donations will be distributed to the following wildlife rescue groups that are rehabilitating native wildlife affected by the bushfires.
New South Wales
Cedar Creek Wombat Rescue Inc & Hospital is dedicated to rescuing not just orphaned joey wombats but also sub-adults and adults that are in need of medical care whether it be from accident, injury, mange or extreme weather events. Along with wombats, Cedar Creek Wombat Rescue care for many other native animals with the focus being on wildlife that are in need of more than routine care to get them to the point of release. Over 38 years ago, Roz and Kev Holme recognised the plight of the bare nosed wombat. The loss of habitat, road hazards, and debilitating sarcoptic mange have all contributed to the steady decline of the common or bare-nosed wombat  (Vombatus ursinus).  Along with wombats, they care for many species native animals with the focus being on animals that require more than routine care to get them to the point of release. The Society greatly admires Cedar Creek's work in helping to conserve native Australian wildlife, especially during the recent bushfires.
The Pridmore's are dedicated to wildlife conservation. Previously, they established Badger Ground Native Nursery at Rylstone NSW, supplying native plants from providence seed. Despite retiring from nursery life, they continue wildlife conservation efforts at Bardger Ground through their continued preservation of both flora and fauna. Donations provided to Mike and Sue will be used to supplementary feed wildlife at Badger Ground Suffering enormously from the drought and fire conditions. Mike and Sue are caring for about 70 native wildlife species in total, many with babes in pouches and many being youngsters. They have counted 40 red-necked wallabies, two regular swamp wallabies, a small family of eastern grey kangaroos and wombats, often requiring feed during 30 degree temperatures, have multiplied. They are also caring for about 80 wild birds and 24 wood ducks, that have gradually arrived to use the pool of water maintained in the dam. Mike and Sue listen to the powerful owls and the mopokes at night and wonder what on earth they are feeding on as there is little, if any, feed in blossoms and so much bushland and shrubs have died. Mike and Sue also have two wild resident koalas. They called the little one Drummer due to the 'drum and rumble' sound it makes at night. Drummer will sleep in the walnut tree during the day and at night it will sleep in the black wood wattle, next to the mugga ironbark. The Pridmore's are experiencing helicopters flying over them with buckets of water to dump on Ferntree Gully Reserve. It has been a huge NSW Rural Fires Service exercise for weeks to prepare for ways of stopping the fire travelling westward.
Sydney Metropolitan Wildlife Service was formed in May 1997, by a large group of experienced wildlife carers, to meet the specific needs of urban wildlife in the Sydney metropolitan area. Sydney Wildlife runs a Wildlife Mobile Care Unit, staffed by experienced volunteer veterinarians, that is travelling to fire grounds to rescue and treat injured and fire-affected wildlife. 
South Australia
South Australian Veterinary Emergency Management Inc. (SAVEM) was founded in 2009, and has been part of the State Emergency Management Plan since 2010. A decade of effective response has built SAVEM's reputation and credibility with Tier 1 Emergency Services such as the Country Fire Service and SA Police. This fire season, SAVEM has been on the fire ground since 20 December 2019 at the Cudlee Creek (Adelaide Hills; 25,000 hectares) and the Ravine (Kangaroo Island; 200,000 hectares) fires. SAVEM was quickly "activated" for the Cudlee Creek fire five days before Christmas. Their tasks over the first few days of the fire largely involved "pet" livestock. However, by day four of the response in persistently hot weather, wildlife began to emerge, seeking water and food, and their focus shifted to assessment and triage of kangaroos and koalas, with the occasional possum, bird or reptile. Many kangaroos suffered severe hind limb burns and were euthanised on animal welfare grounds. Koalas presented in three main groups: (1) minor burns to face or to two limbs, and were able to be sent in to care with a competent licenced carer after veterinary assessment and initial treatment (2) those requiring hospitalisation were given veterinary first aid and transported to the nearby Cleland Wildlife Park, into the care of senior veterinarian Dr Ian Hough, and (3) those triaged as being too badly injured  and with poor prognosis were euthanised. SAVEM's professional experience over ten years has taught them that triage must be rigorous. The highest standards of animal welfare must be maintained and that there is no benefit in keeping and treating a badly injured wild animal in hospital, only to find that euthanasia is required after the animal has endured several weeks of captivity and frequent anesthesia and handling. Another important consideration is that South Australian koalas often succumb to renal disease following stress – especially the stress of hospitalisation.
Queensland
Victoria