Bilby Project
A word about the bilby from the Australian Wildlife Society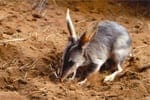 Have you seen a greater bilby?
This shy little marsupial has a grey and white silky coat, long sensitive ears and pink pointed nose. With huge rabbit ears and soft grey fur it's easy to see the resemblance to rabbits, but that's where it ends. The bilby is also known as the rabbit-eared bandicoot. In earlier times, the guardians of the land knew that the bilby could be found all over Australia, but nowadays they can only be seen in certain remote places. MORE »
» REQUIRES ADOBE ACROBAT READER TO VIEW. YOU CAN DOWNLOAD FREE VERSION HERE.
How is the Australian Wildlife Society helping, and how can you help?

Members of the Australian Wildlife Society have been working since the Society's foundation in May 1909 to preserve and protect Australia's wildlife in all its forms.
The Australian Wildlife Society is supporting "Operation Rangelands" in the Pilbara region of Western Australia.
Arid regions, including much of the Western Australian rangelands, have been most affected. Of the 85 species of native mammals (excluding bats) known to have once occupied the arid zone, 11 are now extinct, six are extinct on the mainland and are found only on off-shore islands and 16 are now severely restricted in their range. Preventing further extinctions and reversing the rate of decline of biodiversity and ecosystem health in the rangelands will require proactive and determined intervention and the support of organisations such as the Australian Wildlife Society.
The goal of this unique, ecologically integrated project is to restore natural ecosystem function and biodiversity, including the reintroduction of 11 arid zone mammal species, to almost 600,000 hectares of rangelands in the north-eastern Goldfields of Western Australia by 2020. As well as tangible conservation outcomes, the knowledge and management experience gained from this project will have application across the semi arid and arid rangelands of Australia.
This will be achieved by:
Controlling introduced herbivores including feral camels and feral goats.
Controlling introduced predators – feral cats and foxes.
Implementing ecologically appropriate fire regimes to maintain functioning habitats and to reduce the risk of large, damaging wildfires.
Reintroducing native mammals, such as the bilby, that have become extinct or have severely declined due to introduced predators and herbivores and altered fire regimes. These reintroductions will improve the conservation status of arid zone mammals and, in doing so, return many important ecological functions such as soil cultivation through digging and burrowing, nutrient recycling, seed dispersal and grazing and browsing.
Monitoring reintroduced fauna, introduced predators and herbivores and biodiversity and ecosystem health.
Do you love bilbies?

With your support we can save Australia's precious bilby
Join the Australian Wildlife Society's bilbies donation program for as little as $10 or more each month and together we can make Australia a safe place where native wildlife conservation matters.
Please support our wildlife conservation work.
Help save Australia's precious wildlife by making a donation to the Australian Wildlife Society
Please support our wildlife conservation work. Click here to make a donation »